Cambium Linkplanner 5.1 released
From:
http://community.cambiumnetworks.com/t5/LINKPlanner/LINKPlanner-v5-1-0-Now-Available/m-p/107397#M706
New or changed features
PTP 820

Addition of PTP 820E in the 80 GHz band
Added 7 GHz FCC band to PTP 820C HP and PTP 820F RFU-D-HP
Added warranties for PTP 820F

ePMP

Add ePMP 3000L, Force 300-CSM and Force 130
These products are only available in the 5 GHz band and please note that the Force 300-CSM and Force 130 are not supported in United States, Canada and associated FCC countries.
PMP 450 family

Added notification of pending End of Life for PTP 450 and PMP 450 SM
PMP 450b SM changed to use the new parts which can be used for either PTP or PMP

General

Warranties – updated default warranties in line with changes to warranty options
Changed the best server to process in batches and report high level results at the end of each batch to show progress when analysing large projects and reduce "Not responding" issues.
Discontinued RF Elements SH horn antennas and added similar HG3 horn antennas
Added a "Highlight AP" function to the offline map which when selected will grey out all other APs and associated SMs to allow focus on the SMs connected to the selected AP.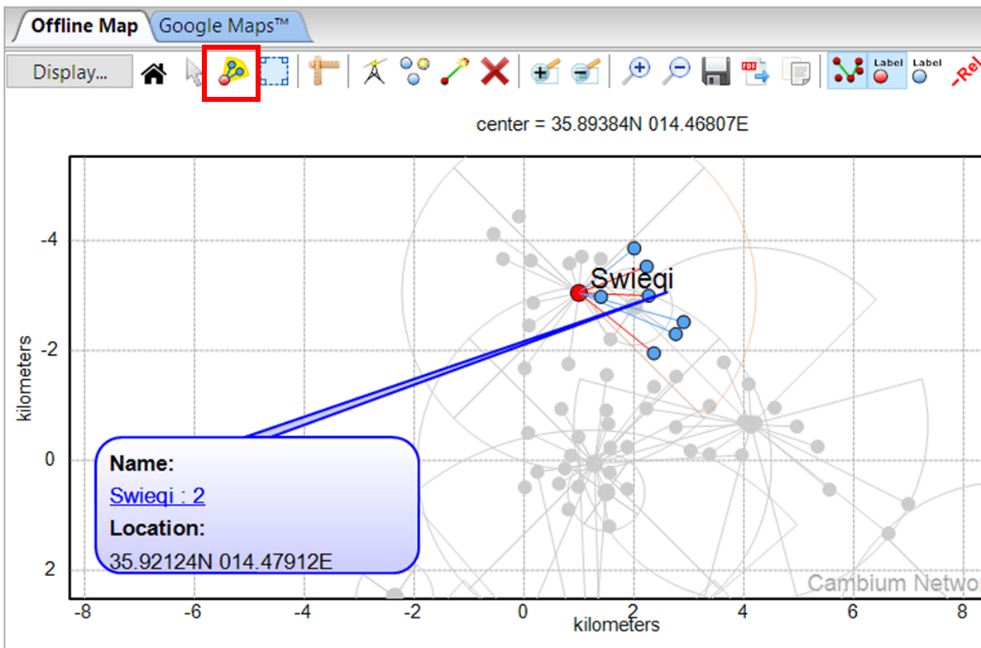 Select the new icon, shown in the red box above and then select the AP that you want to highlight, remember that you can use the up and down arrow keys to toggle between overlapping APs to select the one that you require. Click outside the AP coverage area to return the screen to normal but leaving the highlighter enabled or click on the pointer option on the toolbar to disable the highlight function.
Bug Fixes
Corrected memory leaks when loading a project, which was introduced in V5.0.0 and affected opening large project files
Added missing dual splitter to PTP 820C 4+0 Cross-Polar and 4+0 XPIC
Corrected issue if all the text is deleted in a table cell
Stopped errors when deleting AP or SM from the Subscriber Site List tree
Force the proxy port settings to be an integer
Added missing power cord in PMP 450i AP BOM
Prevented errors when creating hub level reports
Ensure that HCMP Expert mode DL and UL slot allocations are loaded correctly
Corrected error on PTP 550 2+0 when changing regulation
Improved Options dialog label formatting
Prevent errors when changing quantities in the hub BOM
Corrected error when selecting the original PMP 450i integrated AP on 5.2 GHz/Canada
Allowed custom clutter categories to load correctly from project file
Mac only – Disabled Delete option on the hub using the right-click menu in the tree
Mac only – corrected issue preventing users from selecting antennas in the BOM Estimates and equipment templates
Mac only – prevent errors when clicking quickly multiple times in BOM quantity cells
j2networks family of sites
https://j2sw.com
https://startawisp.info
https://indycolo.net
#packetsdownrange #routethelight